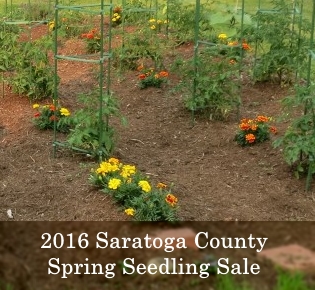 The 2016 Seedling Sale will began January 4, 2016.
View the 2016 Trees and Shrubs Brochure (PDF, 200 KB). Note: The PDF brochure does not include updates to availability of species. Please see the links below.
View full species descriptions (not provided in the PDF brochure)
View species availability (not provided in the PDF brochure)
The Department of Environmental Conservation operates the State Tree Nursery in Saratoga Springs, which produces tree and shrub seedlings for conservation plantings on public and private lands. Native New York seed-sources are used when available.
Support Tree Planting in New York State
The public can now support forest conservation and enhancement by donating to the DEC Tree Planting Fund through the Natural Heritage Trust (NHT). Donations will help the State Tree Nursery provide free and reduced cost seedlings to the Trees for Tribs Program and the School Seedling Program, among other purposes.
New York State's Trees for Tribs program has engaged more than 3,000 volunteers in planting 35,000 trees and shrubs to restore more than 80,000 linear feet of riparian buffer. The Trees for Tribs program works hand in hand with the State Tree Nursery at Saratoga to utilize local seed sources, which ensure reliably hardy stock.
The State Tree Nursery at Saratoga's School Seedling program provides free seedlings to schools and school sponsored organizations for hands-on education programs. When students plant tree seedlings, they can see for themselves the structure of trees, and learn what trees need and how trees grow. Teachers can incorporate what trees need to survive and the benefits trees provide into science, math and other subjects of study. Students also become aware that they can play a role in protecting the environment through personal involvement in establishing a grove of trees.
The NHT was established in 1968 as a public benefit corporation of the State of New York. The NHT's mission is to receive and administer gifts, grants and contributions to further public programs for parks, recreation, cultural, land and water conservation and historic preservation purposes of the State of New York. The NHT accomplishes its mission by accepting donations, raising funds, and through cooperative programs and projects with its agency partners: New York State Office of Parks, Recreation and Historic Preservation (OPRHP), Department of Environmental Conservation (DEC) and the Department of State (DOS). The NHT also partners with a number of other public and private entities, not-for-profits and friends groups to secure and administer funding. The NHT is dedicated to building and sustaining relationships with organizations that share mission compatible goals and purposes.